Full Contact Submission Arts

Contact


Information


A letter of invitation for the F.S.A Kenshinkan
Open Tournament F.S.A Absolute-3
The result of the tournament is here.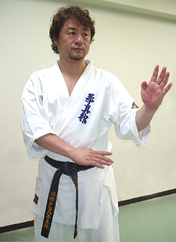 INTERNATIONAL F.S.A KENSHINKAN
FOUNDER & KANCHO(DIRECTOR)-TAKEYUKI HAYAMA
<10th degree(dan)>


In today's climate of globalization it has become necessary for Japan to become more international. We believe that through karate, a well-known part of Japanese culture, we can engage in cultural exchange with people from abroad thus deepening our understanding of each others cultures and in the process contributing to the internationalization of Japan.
I believe Karate encompasses a spiritual aspect as well as one of self protection. When you look now at combative arts being represented by entertainment sports like K-1 and Pride and see karate competitors put on gloves and enter the ring to lose to a kickboxer, it really seems that karate is not effective. Then when you see someone grapple with there opponent and a few minutes later win the bout using kansetsuwaza (joint manipulation) it is evident that this technique would be a powerful tool against multiple opponents or against opponents with a knife.
Without disputing the notion that the technical punches of boxing are the most powerful, in a real fight situation traditional karate techniques like attacks to the eyes and groin are surprisingly effective against punches, it is then very easy to follow these techniques up with kansetsuwaza (joint manipulation).
In September, 2003, with the aim of reviving traditional karate technique, we held a tournament that showcased an historical form of karate, allowing attacks to the eyes, groin and bare-handed punches to the face. After the tournament we received a huge and positive response from both the karate world and the combative arts world.
Please come and see the fight of the century. We look forward to seeing you as a competitor or spectator at this tournament.

Appellation
Open Tournament F.S.A Absolute-3
Organization
International F.S.A. Kenshinkan Karate Organization
Date
February 5th, 2006 (SUN)
Time

| | |
| --- | --- |
| Doors Open | 12:00pm |
| Opening Ceremony | 1:00pm |
| Commence | 1:30pm |

Location
Tokyo-to Shinjuku Sports Center Budo-jo
3-5-1 Ohkubo, Shinjuku-ku Tokyo Zip.169-0072
TEL : 3232-0171
MAP ->
Access
JR / Subway Tozai Line / Seibu Shinjuku Line, Takadanobaba Station
Entry Fee
General Class ¥10,000 (includes use of goggles)
RULES OF THE BOUT
Basic Principles in Free-style fight (Kumite)
Details are here ->
Application Deadline
January 23th, 2006 (Monday).
Applications postmarked by this date will be accepted.
Application method
-Please fill in an application, and stamp it. (The download of the application form is here.)
-Two passport size photos (one to be glued to the entry form and the other to be attached by paper clip).

## Please send all applications from your organization together by registered mail before the application deadline. Be sure to include all entry fees, entry forms, and photos.
Address
To: International F.S.A Kenshinkan Karate Organization
#603 Dai-ni Kouenji 4-28-2 Kouenji-Minami Suginami-ku Tokyo Zip.166-0033
TEL: 03-5378-6036

*Adobe Reader required to open the Application Form.
Adobe Reader can be downloaded for free from the website of Adobe Systems Inc.




| Back to News Top |